Mr. Olympia 2001 was a shocker. After three-time Mr. Olympia Ronnie Coleman showcased what many believe was his best-ever physique at the Arnold Classic earlier in the year, this was predicted to be a romp over the usual contenders he'd repeatedly dispatched before. His biggest threat, Flex Wheeler, had retired. Could anyone make Ronnie's annual coronation interesting? Jay Cutler. Jay Cutler, who was eighth the year before? Yes, and not just interesting. He was going to win it all! Cutler had a commanding six-point lead after prejudging, only to experience a brutal reversal of fortune at the finals.
I was there, reporting, in the press pit and backstage, and I now revisit this seminal bodybuilding event through notes, photos, and interviews with Jay Cutler and Ronnie Coleman to disclose what happened at the 2001 Mr. Olympia, bodybuilding's great What If?
MR. OLYMPIA 2001: BACKSTORY
The 2001 Mr. Olympia was staged at the Mandalay Bay Events Center in Las Vegas just over six weeks after the tragic events of September 11. Security and patriotism were heightened. All-access was more restricted, and, unlike previous years, police officers were on guard backstage. As for patriotism, halfway through his posing routine, Ronnie Coleman stripped off his white trunks to reveal red-white-and-blue trunks beneath, and he plucked up an American flag (hidden behind a stage speaker) and waved it about as the crowd roared.
OUTSIDE THE TOP FIVE
This was peak Orville Burke. The 5'10" Jamaican-born New Yorker filled out the final spot in the posedown (sixth) at age 38 after securing his only two pro wins in the spring. He was the widest bodybuilder in the lineup. But after placing 10th in the next year's Olympia, Burke suffered heart failure during elbow surgery and never competed again.
Likewise, it was peak King Kamali. The outspoken rookie, who was fourth in the Arnold Classic earlier in the year, cracked the top 10, just barely, in his Olympia debut, but was never again a factor bodybuilding's Super Bowl.
Future Mr. Olympia Dexter Jackson was, for the last time, still underappreciated. Beginning the next year, when he was fourth, the Blade would not finish lower than seventh in the Mr. Olympia for 18 years!
Nasser El Sonbaty, second in the 1997 Mr. Olympia, was headed in the opposite direction, smoother and smaller. And then there's Gunter Schlierkamp, the genial giant and Joe Weider favorite who was only competing because of a special invite. He was nowhere: 15th place. And who could've guessed then that the next year, when he was again a special invite, he'd be the Olympia audience favorite, launching Guntermania, and defeat Ronnie Coleman two weeks afterwards?
BATTLE FOR THIRD
In addition to the reversal and close finish of the top two, places three through five were also remarkably close and moved throughout the contest. After prejudging, Chris Cormier and Kevin Levrone were tied for third with Shawn Ray only three points behind them in fifth. The trio eventually finished Levrone (3rd), Ray (4th), Cormier (5th), separated by a mere seven points. (This was Shawn Ray's final contest, as he went out near the top at 36, having finished in the top five of 12 consecutive Mr. Olympias: 1990-2001.)
Remarkably, each of the three legends beat the other two in at least one of the contest's four rounds. Chris Cormier bested the others in the final one—the posedown round, which allowed the top six to go through all the poses again in comparisons. Cormier's legs and back were sharper and fuller than Levrone's or Ray's. No one in this trio was at his best, but Levrone (second the year before) was furthest from his peak and got overshadowed in back shots. He only placed third by receiving straight 3's in the posing routine round (which is no longer scored). I would've placed them in reverse order: Cormier (3rd), Ray (4th), Levrone (5th). And maybe Levrone should've been lower than that. Maybe Dexter Jackson deserved that fifth spot.
COLEMAN VS. CUTLER
From the first comparison of prejudging—with Ronnie Coleman, Jay Cutler, and Kevin Levrone—it was clear the three-time champ was at his worst. Coleman's midsection was bloated and smooth. He was some 30 pounds heavier than the 247 he was when he dominated the Arnold Classic seven months prior with arguably his best physique ever, and at the Olympia many of those pounds seemed to be water. The X-shape he had at the Arnold was obscured. Coleman was better from the rear than the front; his glutes and hamstrings were striated, though his back was a little blurry.
Jay Cutler at 264 pounds also weighed a bit too much. He could've been crisper, and he suffered from cramping throughout the finals. But his abs were markedly better than the champ's and his quads were zippered. He dominated the abs and thigh pose, but lost the rear lat spread. I gave Cutler the front double biceps over Coleman because of his superior shape. Others were close calls.
A month after the 2001 Mr. Olympia, Jay Cutler came to the Flex magazine office for an interview about the contest, and a week after that Coleman did the same for his (shorter) response. What follows are quotes from those interviews, cut together, as the winner and the runner-up reveal their emotions and reconstruct what happened on October 27, 2001, in Las Vegas.
Did you really feel that you could beat Ronnie?
Cutler: "After the [2000] English Grand Prix, when I got second to Ronnie, Chris [Aceto] told me backstage, 'In 2001, you're going to beat Ronnie at the Olympia.' Chris felt right from that day that I was going to beat Ronnie….I felt like I could be very competitive with Ronnie. My goal was to equal my condition in England in 2000 with an extra 20 pounds of muscle, which is pretty much what I did."
What was your reaction when you first saw Ronnie backstage?
Cutler: "I was kind of blown away. Ronnie backstage is very, very impressive. His back is mounds of muscle—he's just big all over. But I wasn't intimidated. Obviously, Ronnie's very strong from the back, but my abs and thighs—in my eyes—are some of the best in bodybuilding. I was pretty confident that I'd look competitive standing next to him. I knew I belonged."
When you were in the first callout with Ronnie and Kevin Levrone, how did you feel?
Cutler: "I started to get a little teary eyes. It was a dream come true—I'd been waiting 10 years to get the first callout in the Olympia. I remember the first Olympia I attended, in 1995 when [Dorian] Yates won, and I remember the excitement of watching that first callout. Years later, here I am, with all the main guys who were at that contest except Dorian. And here's Kevin, who was at his best at that show, and I'm beating him. And I'm getting called out before Shawn Ray. I have a lot of respect for Shawn, and I'd never thought I'd beat him. To be able to compete with these guys and to get called out before them, that was a thrill. It was the highlight of the day for me. I told myself, 'It's going to be my show.'"
Did you get a sense that Ronnie was a bit surprised at your showing?
Cutler: "Yeah. I think he started to get a little nervous. Especially in the symmetry round [round 1, with relaxed poses], when he got more comparisons than I did. I think it's tough for the current Mr. Olympia to be compared that much. I basically won the symmetry round without that many callouts and that bothered him."
Coleman: "I was really surprised I didn't win the muscularity round [round 2]. I don't care to ask the judges how Jay won. I've been competing all these years, and I've never asked the judges why they scored the way they did. If the judges thought that Jay won those two rounds, then that means there's something I need to improve on."
At the end of prejudging how did you think you were doing?
Cutler: "I thought I had second place. I had people telling me. 'You won, you've got this show.' I said, 'Wow, that's great, but let's just see what the final outcome is.' I don't count on things until they're signed off, tucked away. I thought I had second place. I know how it works, and usually Mr. Olympia doesn't get dethroned."
Coleman: "I don't know what was going on during prejudging. I thought I was way ahead to be honest with you. I was in my hotel room when I learned that Jay was leading by six points. I was shocked. I immediately called my family and told them to start praying. I said, 'I'm going to go out there and do everything I can to keep Jay from winning.' I decided that I was going to put on the best show that the fans have ever seen—one of the best and the baddest. I wasn't about to lose. Not this year."
Did Ronnie say anything to you?
Cutler: "No. We didn't talk. That's always how our relationship's kind of been. We say hello and this and that, but there was no conversation. Ronnie always keeps to himself, which is understandable in this business. I have a lot of respect for him, and I'm sure he has a certain respect for me, but we're kind of in our own little worlds back there."
You were in such phenomenal shape at the Arnold Classic [on March 3], what happened at the Olympia?
Coleman: "I had a problem with my midsection because I wasn't feeling right. I had to drink a lot of water on Saturday morning. You drink a gallon of water the morning before a bodybuilding show, and you'll be bloated, too. I didn't have that problem at the Arnold Classic. I did the same carb-up and everything for the Olympia that I did at the Arnold, but I didn't get enough rest because of all the activities I was doing, and I had to drink that gallon of water. For the Arnold, I drank about 30 ounces a day. I made mistakes at the Olympia by doing all those other things [photo shoots and interviews] and I suffered the consequences. But everybody makes mistakes….I just had a bad show, but I still won."
Now that you know you won the first two rounds, what do you say to the view that you didn't pull out all the stops in your posing routine and that allowed Ronnie to overtake you?
Cutler: "My personality has always been reserved. That's how I am. I just want to come and get the job done. The prejudging is basically the deciding rounds of all pro bodybuilding shows, including the Mr. Olympia. I always thought the night show was for the fans. I'd rather go out into the crowd and shake hands with people and take pictures. Anyway, I was told that everyone's music would be shut off at two and a half minutes, so my routine was two and a half minutes. Ronnie knew he was behind into the night. He knew he had to pull off some sort of a great routine, and he did his whole flag bit—though I thought props were not allowed—and posed for, who knows, eight to 10 minutes. Unfortunately, I followed him and came out and did my two and a half. How's it going to look?
Granted, I'm not the best poser. That's not my personality. But losing the Olympia on posing ability takes a lot of digesting. I thought that if you win the two prejudging rounds, basically you win the Mr. Olympia contest, right? The two rounds in the afternoon prove who's got the best physique, right? The Mr. Olympia is a contest for who has the best physique, not who's the best dancer. So I didn't think the posing round would sway things one way or another."
Do you think your hesitation cost you, that maybe you should have chased Ronnie more in the posedown?
Cutler: "I don't know. I guess we're talking rookie mistakes here. It's the first time I've been in the Olympia posedown. But the way I look at it is this: Shouldn't Ronnie be chasing me? I beat him in the first two rounds. He knew it and everyone else knew it. He was the three-time Mr. Olympia, sure, but I was ahead of the three-time Mr. Olympia. He should have been pursuing me."
Coleman: "People always want to see the underdog win, like [the 2000 Mr. Olympia] with Kevin [Levrone]. It's like that with everything. I see it every year. It's just life. I've been here 37 years. I understand life. You can't change it, and it doesn't bother me. I'll do what I have to do to win next time, too."
At any point did you allow yourself to think you might go home with the Sandow?
Cutler: "Toward the end, once we finished the posing round. People were coming up to me backstage saying, 'Congratulations, you're going to be the next Mr. Olympia.' With every competitor coming up to me saying that, I thought, I'm going to win this thing. I have a lot of respect for Kevin Levrone and it really touched me when he put his arm around me and said, 'Jay, you're going to do it. You're going to beat him.'"
Coleman: "There was never a doubt that I was going to win it. Being the three-time Mr. Olympia helped me out a whole lot. It relaxed me and helped me remain in control."
When you and Ronnie were left alone onstage, Wayne DeMilia paused a while before announcing who was second. What were you thinking?
Cutler: "It felt like the longest moment of my life, because at that point I thought for sure it was mine. And from what I understand Ronnie held up two fingers saying he thought he had lost. What does that tell you? When I was announced second, I was shocked and I didn't know what to do with myself. My heart just fell. It was disappointing, but, honestly, I was only disappointed for about two second, and then I said, 'I'm second in the world.'"
Coleman: "Before they announced the winner people say I held up two fingers because I thought I didn't win. That's not true. I was waving to somebody in the crowd. I didn't think I should be number two. I thought I was going to win. I knew it."
Did Ronnie finally say anything to you?
Cutler: "He said that it was the hardest fight of them all. I think Ronnie was surprised. No one saw me coming, and I think he summed it up with those words."
Who should've won the 2001 Mr. Olympia?
Cutler: "If you look at the score sheets, it was my contest to win. If I was ahead in prejudging, I beat Ronnie in the physical war, and I think that's what bodybuilding is. I beat him where it matters. Is that bodybuilding or not? But you know what I realized—and this is my opinion—is that it wouldn't have mattered, because Ronnie was going to win the show no matter what."
Coleman: "I'm upset that some people think Jay should have won. Personally, I don't think that he has a better physique than I do. It's apples and oranges. I don't even like Jay's physique, to be honest with you. He's not symmetrical like Kevin [Levrone], Shawn [Ray], and Chris [Cormier]. For Jay to get what I have [the Olympia title], I think he needs to be reborn and pray for better genetics."
Cutler: "The judges can become overwhelmed. They see the current champion and they're kind of in awe of him and it's hard for them to get it out of their heads, because the champion always seems to win."
Coleman: "I'm always anxious to get onstage, but I'm not looking to compete against anybody in particular. I'm just competing against myself."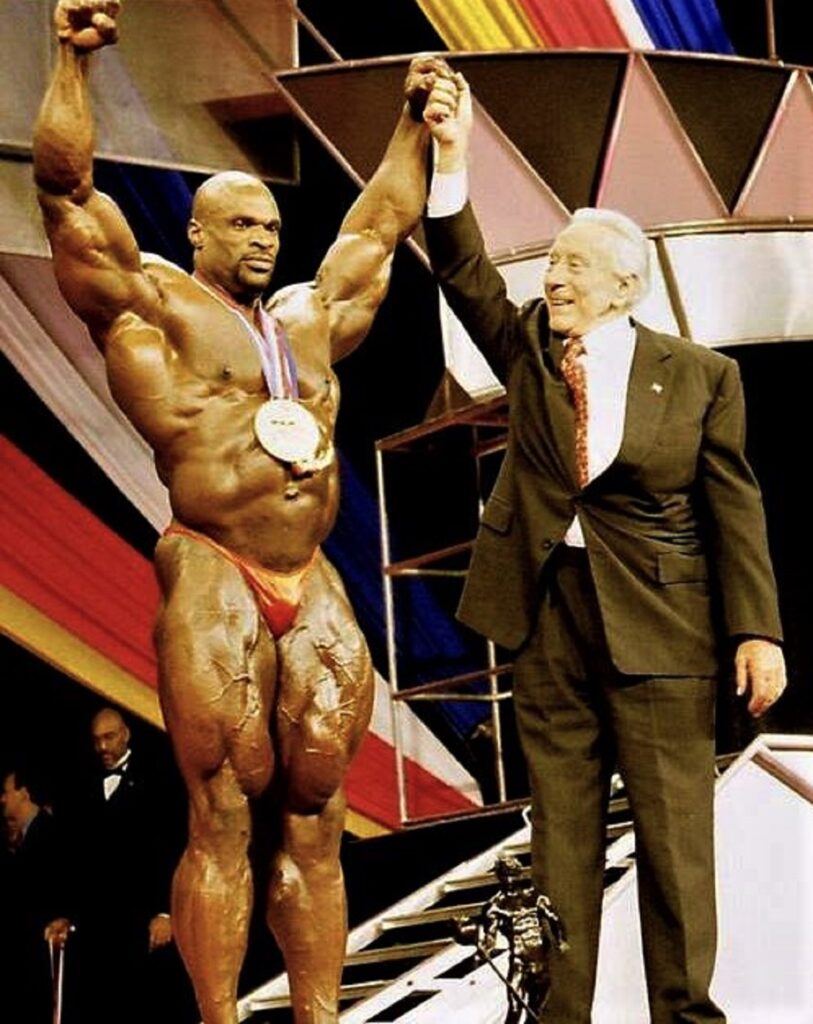 2001 MR. OLYMPIA: CONCLUSION
Regardless of whether Jay Cutler or Ronnie Coleman should've won (and it was not an easy call), the 2001 Mr. Olympia was poorly judged. Levrone should've been lower, Cormier should've been higher. And the top placings should not have switched so dramatically from the prejudging, which ended at 2:25 PM, to the final announcement at 9:50 PM. This was partly because posing routines were 25% of scoring then, unlike today when they're 0%.
The word was the "powers-that-be" didn't think Jay Cutler was ready then to leap all the way to the top of bodybuilding, so judges' minds were changed after prejudging. Everyone figured 37-year-old Coleman was slipping, and 28-year-old Cutler would catch him soon enough. Ronnie Coleman would indeed be at his worst the next year, but Jay Cutler—still stung from the dramatic reversal in '01—sat '02 out after winning the Arnold Classic. And then Coleman reinvented himself as a 300-pound behemoth in '03. So, Cutler didn't win his first of four Mr. Olympias until 2006. Five long years. Second to Coleman three more times. But what if he'd won in 2001 and 2002, so that both he and Coleman owned six Sandows today? How differently would we think of their legacies and their rivalry? The shocking 2001 Mr. Olympia remains bodybuilding's great What If?
2001 MR. OLYMPIA SCORING (Top 6)
| | | | | | |
| --- | --- | --- | --- | --- | --- |
| | Round 1 (relaxed) | Round 2 (muscularity) | Round 3 (posing) | Round 4 (posedown) | Total |
| Ronnie Coleman | 9 | 9 | 5 | 5 | 28 |
| Jay Cutler | 6 | 6 | 10 | 10 | 32 |
| Kevin Levrone | 19 | 22 | 15 | 20 | 76 |
| Shawn Ray | 21 | 15 | 21 | 23 | 80 |
| Chris Cormier | 19 | 22 | 24 | 18 | 83 |
| Orville Burke | 30 | 35 | 35 | 30 | 130 |
2001 MR. OLYMPIA RESULTS
October 27, 2001 / Mandalay Bay Events Center, Las Vegas
1. Ronnie Coleman ($110,000)
2. Jay Cutler ($60,000)
3. Kevin Levrone ($40,000)
4. Shawn Ray ($35,000)
5. Chris Cormier ($30,000)
6. Orville Burke ($25,000)
7. Dennis James ($15,000)
8. Dexter Jackson ($14,000)
9. Nasser El Sonbaty ($12,000)
10. Shari "King" Kamali ($10,000)
11. Melvin Anthony
12. Craig Titus
13. Vince Taylor
14. Markus Rühl
15. Gunter Schlierkamp
16. Tom Prince
17. JD Dawodu
18. Darrem Charles
19. Pavol Jablonicky
20. Claude Groulx
21. Mike Matarazzo
To read about Coleman's first Olympia win, check out: The 1998 Mr. Olympia